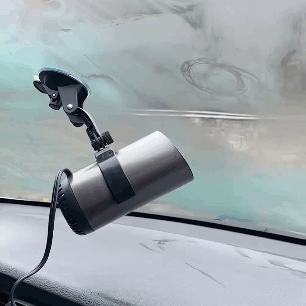 📌【Fast Heating】12V 150W Fast Heating Car Heater Can Quickly Heat the Air within one minute Without Waiting for the Engine to Warm Up. This convenient heater uses no gas and only uses the energy of the alternator, which is the most effective way to keep warm. Alloy heating wire, low power consumption, long use time, and safety.


📌【 2 IN 1 Modes】The car heater has dual functions, with two switches for natural air and hot air. It is ideal for defrosting/demisting window&windscreens in winter. It can also be used as a car fan to cool your car in summer.
📌【Easy To Install】Simply connect the portable car heater to the cigarette socket of the vehicle and switch to heat or fan(Make sure your car has a 12V lighter port). When driving, put it directly on the water cup holder of the car to radiate heat; it can also be fixed on the dashboard to remove the fog and frost on the windshield. This defrost and defog car heatercomes with a 360° rotate supporting suction holder, follow control, more convenient and comfortable.
💢【Features: 】
✅2 in 1 mode: with automatic heating and cooling fan functions. It is very suitable for defrosting, demister, demister and snow removal.
✅The 360° bracket is designed for free adjustment, tear off the protective film of the suction cup, and press down the pressure valve to use. Very convenient and practical.
✅This car heater is very suitable for cars, camping and RVs. It can make your car windshield unobstructed and bring you a comfortable and safe driving experience.


💢【Package Includes: 】
1 ×Cup Shape Car Warm Air Blower
1 ×Bracket (with Suction Cup)